Rationale:
IPRT's core guiding principle is the use of 'imprisonment as a last resort'. The damaging impact of imprisonment on the individual, as well as its ripple effects on families and communities, is enormous. [202] IPRT's research has previously documented the benefits of community-based alternatives to custody for individuals, including the opportunity to develop 'soft' skills such as self-esteem and confidence, as well as the ability to maintain familial and other relationships in the community. [203]
Current context:
This guiding principle of imprisonment as a last resort is as relevant as ever with the United Nations Economic and Social Council adopting in 2017 a resolution entitled 'Promoting and encouraging the implementation of alternatives to imprisonment as part of comprehensive crime prevention and criminal justice policies.' [204]
Figures from the Irish Prison Service Annual Report 2017 [205] demonstrate:
Indicators for Standard:
Indicators for Standard 2
Indicator S2.1: Ireland's imprisonment rate (committal rates, daily prisoner population rates and release rates) compared to European rates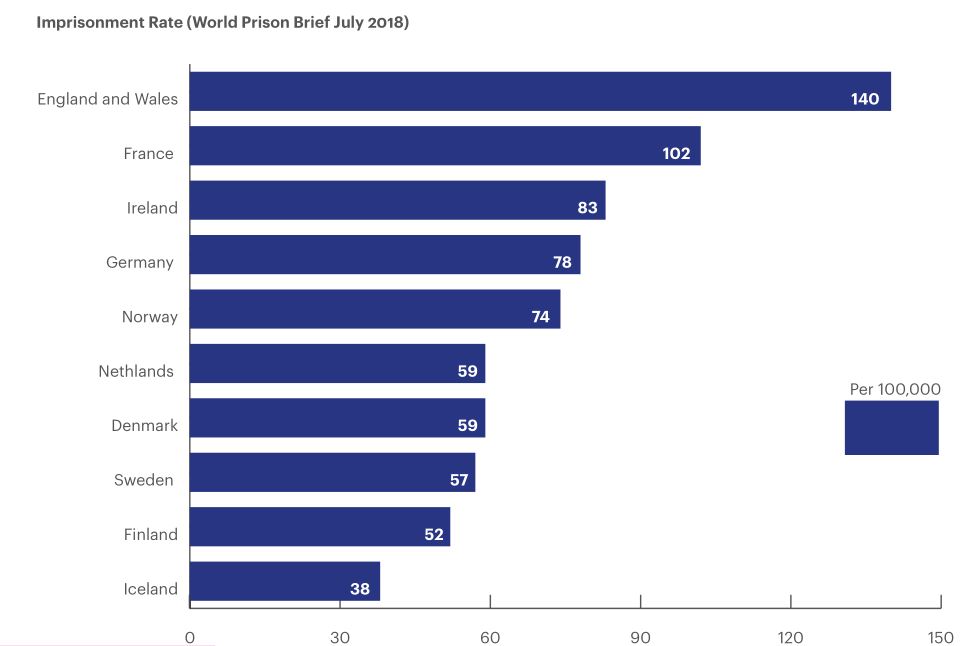 The imprisonment rate in Ireland was 83 per 100,000 in July 2018, much higher than rates of Nordic countries including Finland at 52 per 100,000 and Iceland at 38 per 100,000. [211] However, Ireland is closer to Nordic rates than those of England and Wales, which is positive.
In the most recent, World Prison Brief, [212] Ireland's rate of imprisonment is 83 per 100,000, ranked thirty-ninth from highest to lowest out of 56 countries. [213]
In 2015, the rate of entries into Irish penal institutions was 371.7 per 100,000 compared to the CoE median of 167.3, and the fourth-highest rate in the EU. [214] The average was 203.5. [215]
The statistics [218] show Ireland's high prison 'turnover ratio' of 82.8 compared to a European average of 52.3. [219] High turnover rates (where individuals move in and out of the prison system quickly) are one indicator which shows that imprisonment is not being used as a sanction of last resort.
Table 2: Daily prison population numbers
Daily Prison Population Numbers [220]
Year
Month
Date
Total
2017
January
02/01/2017
3,574
February
01/02/2017
3,715
March
01/03/2017
3,819
April
03/04/2017
3,753
May
01/05/2017
3,732
June
01/06/2017
3,714
July
03/07/2017
3,704
August
01/08/2017
3,753
September
01/09/2017
3,536
October
02/10/2017
3,589
November
01/11/2017
3,673
December
01/12/2017
3,711
2018
January
01/01/2018
3,631
February
01/02/2018
3,812
March
01/03/2018
3,846
April
02/04/2018
3,890
May
01/05/2018
3,945
June
01/06/2018
3,994
July
02/07/2018
3,994
August
01/08/2018
4,022

Indicator S2.2: The percentage of sentences of less than 12 months.
Snapshot figures show that 463 sentenced prisoners were serving a sentence of less than a year on 30th November 2017. [221] This compares to 415 prisoners on 30th November 2016. [222]
Indicator S2.3: An increase in the use of alternatives to custody as a substitute for short-term sentences.
It is difficult to determine whether alternatives to custody are being used as a direct substitute for short-term sentences. IPRT has previously highlighted that the provision of community sanctions often produces 'net-widening effects', drawing more individuals into the criminal justice system. [223] Evidence from the Council of Europe suggests that Ireland is under-utilising Probation/ Community Sanctions. [224]
Despite the introduction of legislation to encourage the use of Community Service Orders in Ireland, the Criminal Justice (Community Service) (Amendment) Act 2011, [225] there is little evidence of any real increase in the deployment of Community Service Orders in Ireland, and an evident reduction in the number of Community Service Orders since 2011.
| Year | Number of Community Service Orders [226] |
| --- | --- |
| 2011 | 2,738 |
| 2012 | 2,569 |
| 2013 | 2,354 |
| 2014 | 2,190 |
| 2015 | 1,937 |
| 2016 | 2,067 |
| 2017 | 2,215 |
Number of Offenders on Community Return as of 31 st December [232]
| Year | Number of Offenders on Community Return |
| --- | --- |
| 2012 | 105 |
| 2013 | 108 |
| 2014 | 149 |
| 2015 | 55 |
| 2016 | 66 |
| 2017 | 60 |
Progressive Practice:
Principles-Based Practice: The Netherlands
A change in penal policy took place in the Netherlands in response to a recidivism rate of 70% (within a period of seven years), which the Government deemed unacceptable. [227] Successive Dutch governments have focused on principles such as: public safety, self-reliance, humanity, proportionality, normalisation and reintegration.[228] These principles appear to be preserved independent of the politics of the government in power.
Community Return, Ireland
Community Return is a programme which allows certain prisoners to complete unpaid community work in exchange for their early release. [229] The programme is available to those who are serving more than one year but less than eight, and who have completed at least 50% of their sentence. [230] Since its establishment in 2012, the Community Return Scheme has maintained a compliance rate of approximately 90%. [231] IPRT raises concerns on the decreasing number of offenders placed in community return, which has halved since the introduction of the programme.